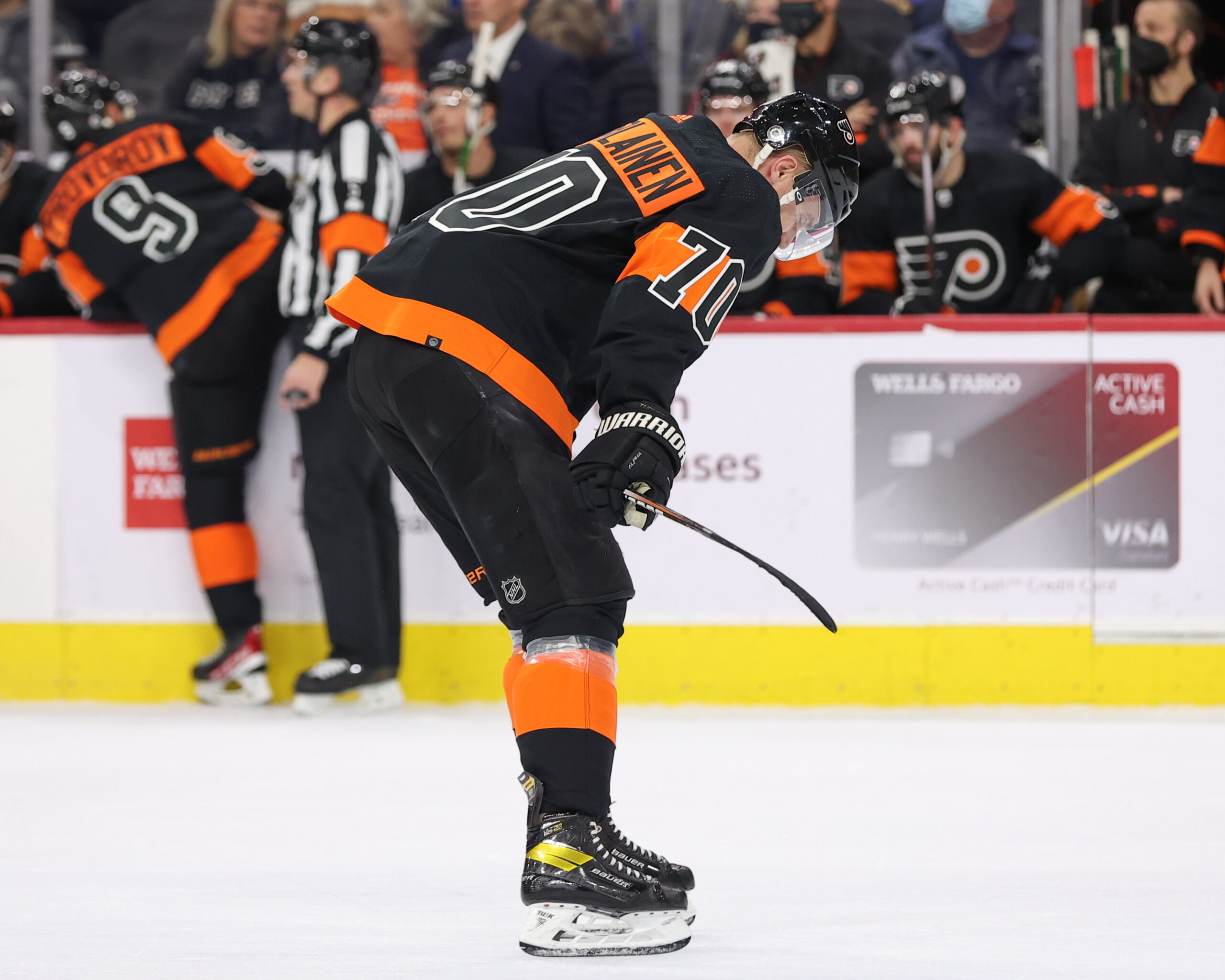 Philadelphia Flyers 2021-22 Season Grades: Defense
After examining the forwards and how they performed this year, it's time we do the same for the defense. The Flyers defense was not good in the slightest, a lot of players didn't perform, a lot of players didn't meet expectations, however there was a bump of youthful injection near the end. All in all, the grades are as follows:
Ivan Provorov
The supposed mainstay of the Flyers back-end, Ivan Provorov had plans for a bounce back season being paired with Ryan Ellis. Ellis, however, didn't last longer than four games which then put the defense on the fritz as they had to re-shuffle the deck without their prized offseason acquisition. Justin Braun found himself back on the top unit with Provorov and he performed steadily until the wheels fell off in December but by then the season was essentially done. Provorov played with Cam York for some time before the latter got sidelined with a season-ending injury, and then he found himself with Ronnie Attard to end the year. 
The two-way defenseman finished the season with 9 goals and 31 points, had several long scoring droughts even though he was on the top unit of the power play for a majority of the season, and struggled for a good chunk until the end when he started playing like his older self with York. He had a stretch of 20 games with only two assists, as well as another slump that involved one point in 11 games. His power play prowess was under question all season as the Flyers kept faltering when up a man and Provorov's play didn't help the cause either. 
It wasn't all bad but when you're tabbed as the number one defenseman, a lot more is expected. There were rumours about Provorov being unhappy with the media and that came to fruition with his testy responses at the end-of-season press conference. It wasn't the best of seasons for Provorov as rumours have begun to run amuck about potential trades. With some questions still remaining on the health-front for Ellis, Provorov figures to remain on the back-end for the time being, as for his season he receives a C-.
Travis Sanheim
The Barry Ashbee Trophy and Pelle Lindbergh Memorial Trophy winner, Travis Sanheim had a revelation of sorts after the dismissal of Alain Vigneault after going from 0 goals and 3 assists in 22 games to 7 goals and 28 points in his final 57 games under Mike Yeo. Sanheim was tabbed to play with newcomer Rasmus Ristolainen and it was evident that the two had no chemistry to begin the season as it took the duo almost a month to find their groove. Once they realized how to play with each other and play their respective games instead of forcing something they couldn't do, they became the better duo for the Flyers, but I guess that wasn't hard to come by with the other two pairs not playing up to task. 
Sanheim's game is based on his aggressive offensive nature and that came to the forefront under Yeo. He was evidently joining rushes, taking more shots, pinching when necessary, and finally got much deserved power play time near the end of the season. The sky is the limit after such a great ascension, so for his efforts Sanheim deserves a B+.
Rasmus Ristolainen
Ristolainen was acquired at the 2021 NHL Draft from the Buffalo Sabres for a first round pick, second round pick, and Robert Hagg. It was a trade that came with a lot of criticism because of the price of acquisition, his disastrous analytical stats from his time in Buffalo, and the fact that he only had one year left on his contract so it was a rather expensive rental. However, Fletcher doubled down on his hulking defenseman and wanted to get an extension done as soon as possible. That day came in March as he was extended to a five year deal at a $5.1 million AAV. 
As for his play, it was honestly an up-and-down rollercoaster ride. Some games, he was great and in doing so was physical, nasty, aggressive, and playing a strong offensive game. On his bad days, he was out of position, cared more about the hit than the puck, screened the goaltenders an awful lot, and took unnecessary penalties. In 66 games he scored 2 goals and 16 points in 66 games, which were career lows for the Swedish defenseman.
He played well with Travis Sanheim but it was definitely not the greatest season for a player that came in with a lot of criticism regarding his play, a contract extension, and market value. On the bright side, he recorded 125 blocks and 230 hits, so there was something to hold onto. It was a tough call between a C- or a D, but at the end of the day Ristolainen will receive a C-.
Keith Yandle
Keith Yandle did not have a good season and I think we can all agree on that one. On the season he scored one goal and recorded 18 assists, while posting a -47. His one goal was his lowest total since the 2006-07 season when he went goalless in 7 games. His 18 assists, 19 points, and 105 shots on goal were his lowest output since the 2007-08 season when he was a rookie and appeared in 43 games. His 9 power play points were his lowest amount since the 2012-13 season when he scored 5 power play goals and added 5 assists.
His presence was supposed to help the bleak Flyers power play, but it did the opposite as they finished with the 32nd-ranked man advantage. He lost his place on the first unit several times, played on the second unit for the majority of the second half, but didn't play up to his expectations. Let's also not forget that Yandle did break the NHL ironman streak for most consecutive games at 965 but then the Flyers benched him in what was seen as a controversial move at 989 games. Yandle receives an F.
Nick Seeler and Kevin Connauton
The two extra defensemen for the Flyers get paired up together because they played the same game and were equally as bad. They were usually paired up with Keith Yandle on the Flyers' third pair on a nightly basis, but there were some games where all 3 played and it was not a fun night for the Flyers and their goaltenders. Seeler, a former Minnesota Wild product, was signed on the 28th of July on a two-way contract and represented the Flyers' seventh defenseman. Connauton was claimed on the 7th of December after being placed on waivers by the Florida Panthers.
Both players each scored 1 goal and 2 assists with Seeler in 43 games and Connauton in 26 games. On most nights they got exploited with the lack of depth around them and for their efforts they receive a D-.
Cam York
2021-22 campaign represented York's rookie season as he met the minimum requirements of 25+ games. In 30 games he scored 3 goals, added 7 assists for 10 points, which also included a goal and 3 helpers on the power play. He averaged 19:05 of ice time for the season but after being placed on the top pair with Provorov, his minutes went way up as he averaged over 21:38. His play got a lot better, he looked a lot more confident, his power play prowess was on full display with everyone else around him not worthy of power play consideration, and in doing so I believe Provorov benefitted in playing with another puck handler. For his efforts, York receives a B-.
Ronnie Attard
Clumped in with Noah Cates and Bobby Brink as the collegiate signings after the trade deadline, Attard's time with the Flyers was short but sweet. In 15 games he scored 2 goals and added 2 assists, took 16 shots on goal, finished 24 body checks, and added 17 blocked shots, while averaging 16:36 of ice time.
Paired up with Keith Yandle and Kevin Connauton when he first came into the big leagues, Attard had some rough games as evidenced by his -4 showing in his NHL debut against the Toronto Maple Leafs, a -2 showing against the Columbus Blue Jackets, and then a -5 against the Washington Capitals. In his next 7 games, being paired up with Provorov no less, he scored one goal, added an assist, was a plus 6, and averaged 18:49 of ice time.
He looked a lot better as he played harder minutes but with a few kinks in his game, it won't be a bad thing if we see him in the AHL to start the 2022-23 season. For his efforts, Attard receives a C-. 
Egor Zamula
Zamula made his regular season debut when the Flyers were hampered with COVID as they were without both Provorov and Sanheim, while still having Ellis sidelined with his mysterious injury. Zamula was tasked to play the Pittsburgh Penguins who took the Flyers to town that night but to his credit he was held to an even plus/minus rating in 19:46 of action. He rejoined the Flyers' lineup in mid-April and played the last nine regular season games, going without a point, playing sporadically with his Russian teammate in Provorov, while averaging 15:58 of ice time.
Zamula has played very well for the Lehigh Valley Phantoms and it's only a matter of time until he becomes a staple on the Flyers roster. He has a chance to crack the opening night roster next season but with so many question marks surrounding the team heading into the offseason, we must wait to see what Chuck Fletcher does with the back-end. Nevertheless, Zamula's calm demeanour on the ice helps him receive a C. 
Linus Hogberg
Hogberg made his NHL debut as he was recalled from the Phantoms on an emergency basis with the Flyers losing Rasmus Ristolainen and Cam York to injuries. Hogberg recorded points in his first two games, was a plus 2 overall in the five games he appeared in, looked very calm, cool, and collected, and didn't really waver from his natural game. He averaged 17:04 of ice time and for his small sample size he receives a C+. 
Ryan Ellis
The prize of the offseason was acquired from the Nashville Predators for Nolan Patrick and Phil Myers and was expected to play on the top pair with Ivan Provorov to finally give the Flyers a reputable duo. He played very well with Provorov during the pre-season and even in the four games he was on the ice for during the regular season, but was forced to miss nearly the entire season due to injury. It was unknown for the longest time what the actual injury was, when he would've been hurt, and what the timeline would be for his return. At first it was a day-to-day injury, then it turned to week-to-week, which then turned into a 4-6 week timeline, and then finally after a lot of quiet weeks it became a season ending pelvic injury. He scored a goal and 5 points in only 4 games, averaged 22:48 of time on ice, and looked really good and in doing so made the team look a lot better.
The Flyers are hoping for a lot more from their assumed top defenseman in 2022-23 and all signs point to him being ready for training camp, however he opted against surgery. During those four games it's hard not to give him an A, but it was a very small sample size and one that we wish lasted a lot longer than it did.